School History...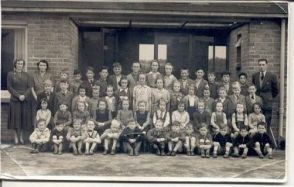 The History of Newbuildings Primary School
Newbuildings Primary School opened in 1955 with 55 pupils on the roll. Eighteen new houses had been built in Foyle Crescent and children from these houses together with others from Rossnagalliagh and Magheramason made up the first enrolment numbers in the new school.
The school consisted of two classrooms (one of which was divided into the dining room by a sliding wooden partition), toilets, cloakrooms and a principal's office which was very small. The kitchen was attached to the dining room and had a serving hatch in the back wall. This made it very noisy for teachers and pupils when pots and pans were being washed. The partition was frequently folded back to give extra space for assemblies and concerts.
The first cook was Mrs McClintock who actually only came for a week to help get the kitchen up and running but who remained until her retirement. As more houses were built in Foyle Crescent and the enrolment grew so two more cooks, Mrs McCorkell and Mrs McGarrigle became members of the kitchen staff. The cooks had an early start in the morning as the cookers had to be lit using kindling and coal before any cooking could begin. School dinners for Rossnagalliagh, Greerstown and Killymallaght Schools were made in the Newbuildings Primary School kitchen and when these schools closed many of the pupils transferred to NewbuildingsPrimary School .
Over the next few years two large extensions were added including an assembly hall, dining room, two large resource areas and nine classrooms. Two mobile classrooms also became necessary as the numbers in the school continued to grow.
The first principal was Mr Fred Simpson who together with his wife Mrs Nancy Simpson (the second teacher at the school) lived in the school house in the school grounds. A few years later they were joined by Mrs Joan Henderson as the third teacher. At one stage numbers rose to more than 350 pupils and fifteen members of staff. In 1981 school uniform was introduced for the first time and a badge was designed by two members of staff, Mrs Esther Scobie and Mr Michael Roulston. They came up with the idea of using a phoenix rising from the ashes because the village of Goldsmiths Hall was burned to the ground in the seventeenth century and at a later date new buildings arose to create what is now known as Newbuildings.
Mrs Henderson succeeded Mr Simpson in 1991 as principal and carried on the excellent tradition of teaching excellence and music until she too retired to be replaced by Mrs Heather Poole. On her leaving to take up another appointment in 2010 she was replaced by Mr Chris Scholes in January 2011. A new school uniform was introduced in September 2011 together with a new crest.
Mrs Walker is the current Principal.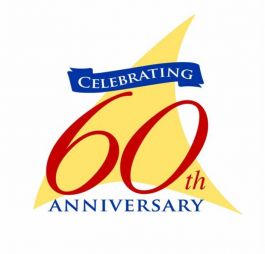 We are celebrating our 60th Anniversary this year. We are planning a major event in the Summer term to celebrate this.
Newbuildings Primary School, 83 Victoria Road, Londonderry, BT47 2RL. Tel no: 028 7134 3896